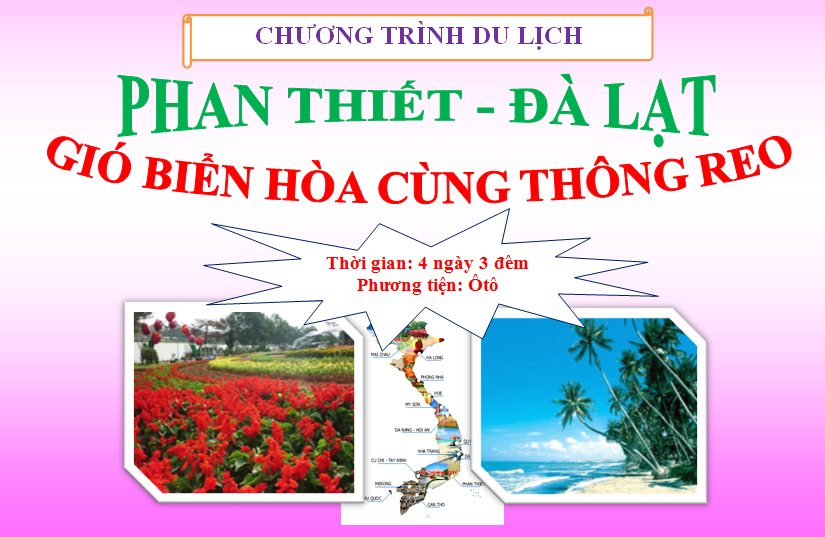 Day 01: Vinh Long - Phan Thiet (breakfast, lunch, dinner)
04h30 : Car and guide pick you mientay Tourist and depart for Phan Thiet.
Morning : Visit breakfast. Continue to depart Phan Thiet past landmarks such as City. Ho Chi Minh City, Dong Nai, ...
Noon : Group lunch. You check in and rest.
Afternoon : Car and takes you into the Rom tour select one of the beaches (beach Thuy Trang, South, Hon Rom I, II Rom ...). By the 21 km long highway watching the golden sand dunes. On the way you admire the beauty of Phan Thiet Beach, Poshanu Cham towers, ruins Lau Ong Hoang.
Visit to tourist areas Rom, free swimming and games involved in sea resorts. You can enjoy fresh seafood (own expense excluded)
17h00 : Leave resorts. Continue to visit the sand dunes of Phan Thiet is dubbed or sub-desert sand hills. You have the opportunity to watch the sunset on the golden sand dunes romantic and participate in games sliding sand, enjoy the "lazy coconut 3" sweet seaside.
17h30 : Have dinner.
Along the path through dense coconut ice Ham Tien of Vietnam Rersot kingdom. Looking at the Rersot, he addresses rocks, dense coconut ... Back to Ham Tien Phan Thiet City.
Bus tour to visit shopping specialty sauce, squid 1 sunny, dry Phan Thiet.
Back to the hotel room to rest.
Evening : You are free to explore the city of Phan Thiet.
DAY 02: Phan Thiet - DA LAT (breakfast, lunch, dinner)
Morning : Have a beach, office, car shopping Doan Phan Thiet, you buy local specialties. Then depart from Phan Thiet to Dalat, a new way of Luong Son (Binh Thuan province) went to Di Linh (Lam Dong province), across the Dai Ninh hydropower plant.
Noon : Arrive Da Lat, Group lunch, check in and rest.
Afternoon : you visit Domain de-Marie church, visit Bao Dai palace, Bich Cau flower garden.
Evening : you walk around Da Lat night, enjoy delicious dishes at the night market Hades, highland coffee flavor consistent Thuy Ta, scenic Xuan Huong Lake, overnight in Dalat (own expense) .
DAY 03: DA LAT MOUNTAIN FOREST (breakfast, lunch, dinner)
Morning : You Datanla tour operators, visit Truc Lam, take the cable through Robin Hill, a scenic pine forest, Tuyen Lam Lake, Phoenix Mountain from above.
Noon : Group lunch and rest.
Afternoon : You have the opportunity to enjoy the scenery Ankroet waterfall, stream Gold, Silver springs, lakes Dankia, Golden Valley - a mountain populations, young, stream, lake is the landscape's most followers Lam Vien Plateau. Continue to go to the salad, village of Lat ethnic group lie Langbiang foothills, along the way you admire Da Lat suburb to gardeners grow enough crops.You climber, conquering Langbiang; from mountain top to admire the entire city of Da Lat poetic, fanciful in the mist.
Evening : You attended the camp fire at night, drinking wine, gong, cultural exchanges with the West, overnight in Dalat.
DAY 04: DA LAT - Vinh Long (Breakfast, lunch, dinner)
Morning : Have breakfast and check-out, leaving the team bus back to Vinh Long Da Lat. On the way back you visit a specialty shop, enjoy tea, coffee Bao Loc.
Noon : Group lunch. Then continue on to Vinh Long, on the way you can admire excitement of Binh Duong, Ho Chi Minh City ... On the way you stop snack.
Afternoon : HDV and Tourist mientay take you to the original point team farewell and see you again!
Note: The time and place are only expected, on the tour route may change to suit the actual situation, while ensuring adequate sights!