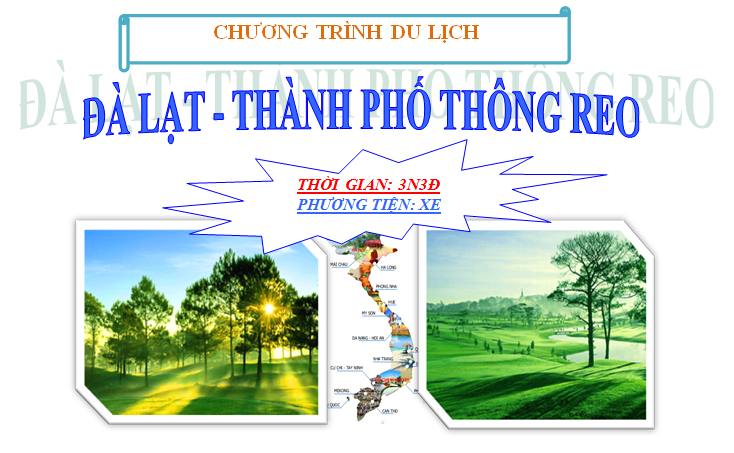 DAY 1: Vinh Long - DA LAT Breakfast, lunch, dinner
20h00 : Car and guide pick Tourist mientay rendezvous depart Da Lat Flower City. On the road singing guide, activities, and fun games nhon''hay that strange, strange or 'like confrontation much of the story, the story Mr. Seven Ba Ba, ... union Overnight on the car.
Morning : Group breakfast at KDL Prenn.
Delegation to KDL Prenn - visit Prenn - is a beautiful waterfall in Lam Dong province. Bring a soothing waterfall looks graceful as a screen gently pouring water from a height of 10 m to a small lake, surrounded by hills full of flowers and a message of weapons, the Au Lac Temple complex.
Visit to the Dream Hill, which is known as "Da Lat miniature"
Group lunch. Check in hotel.
Afternoon : Visit the galleries dried flowers forever known as 'Dry Flower Forest Biology' - here the customer is thinking only Dry flower petals alone but dried marinated modern technology today has brought surprises and very interesting. This unique product is the holding dried flowers complete, still soft petals, pistil fresh as never processed.
, Stop to visit and learn about the process of growing and producing strawberry jam, teams will get a taste of many different kinds of Dalat jam.
1700 : Group dinner at the restaurant. Back to the hotel room.
Evening : Free walking by Ho Xuan Huong double bike "Valentine", revealed to enjoy special tea, coffee run, ...
DAY 2: DA LAT - DISCOVER roads Eat Buffet breakfast, lunch and dinner
0700 : Group breakfast.
Continue to visit:
Palace III - Built between 1933 and 1938 where Bao Dai family living and working in Dalat City.
Langbiang - or mountain Langbiang: or Langbiang mountain resort is two mountains: Mount Mr and Mrs mountain located 12km from Da Lat city Langbiang - are two names joined by his story and she H'biang conventional K'lang K'Ho nation theory. Located at an altitude is considered one of the highest mountain in Da Lat, Langbiang mountain resorts are considered specific to tourism picnic, explore nature, learn the culture of the people day.Chi for Langbiang by special vehicles (own expense)
11h30 : Group lunch at the restaurant, the hotel and rest.
Afternoon : Visit Minh Tam Flower Garden, a convergence of many beautiful flowers of Da Lat
Visiting Architecture Domain de Marie Church - learn about the miracle of the saint, for peace for themselves and their families.Union can buy sweaters knit by orphans cheaply.
Bus tour sightseeing and shopping in Dalat market.
17h30 : Visit over dinner.
1800 : Union can participate in an exchange program to learn musical culture to the peoples of the salad. (Expenses excluded)
20h00 : Back to the hotel to rest.
DAY 3: DA LAT - Vinh Long Food Buffet breakfast, lunch and dinner
05h00 : Check out and leave Union City Da Lat flowers.
0700 : Group breakfast. Visiting Tam Chau tea, or learn how to Tram Anh product display, advertising, marketing, specialty tea blends.
11h30 : Group lunch.
Continue on to Vinh Long.
15h30 : Group specialty "snakehead fish soup bitter herbs" in Tien Giang.
17h00 : Arrive in Vinh Long. Group farewell tour guide and see you tomorrow. End of tour.
Note: The time and place are only expected, on the tour route may change to suit the actual situation, while ensuring adequate sights!