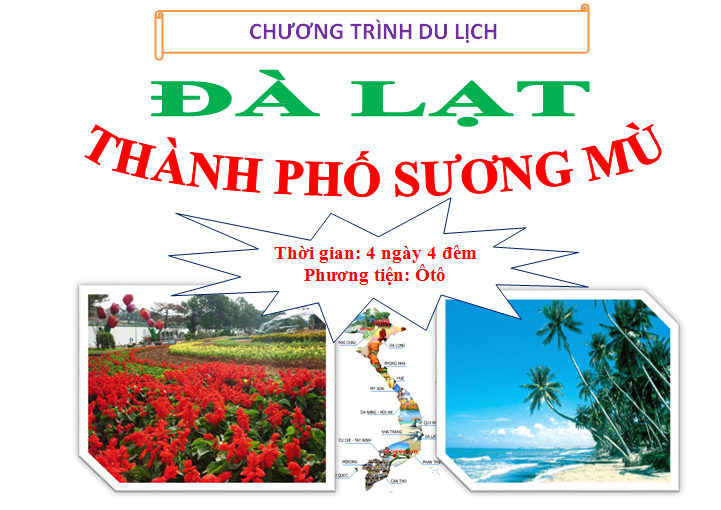 NIGHT 1 - DAY 1: Vinh Long - DA LAT (breakfast lunch cheu)
20h00: Car and guide pick of mientay Tourist Association at the meeting point and departure to Da Lat City.
21h30 : Group snacks in Tien Giang specialties (snakehead fish porridge bitter herbs) (own expense). Lunch and departure to Da Lat. You rest on the car ...
Morning : Visit breakfast.
Delegation to KDL Prenn - visit Prenn - is a beautiful waterfall in Lam Dong province. Bring a soothing waterfall looks graceful as a screen gently pouring water from a height of 10 m to a small lake, surrounded by hills full of flowers and a message of weapons, the Au Lac Temple complex.
Bus tour up the hill Robin, moved by a modern cable car over to visit Truc Lam Zen Monastery, the scenery breathtaking and Tuyen Lam Lake. (Own expense).
Noon : Group lunch. Check in hotel.
Afternoon : Visit the galleries dried flowers forever known as 'Dry Flower Forest Biology' - here the customer is thinking only Dry flower petals alone but dried marinated modern technology today has brought surprises and very interesting. This unique product is the holding dried flowers complete, still soft petals, pistil fresh as never processed.
Valley of Love: beautiful and fascinated by deep valleys and lush greenery all year round hill. Visitors can along the trails or climb a hundred steps, go through the gate with brightly colored flowers to over Vong Canh Hill. From here, Love Valley out of sight upon a beautiful vivid picture.
, Stop to visit and shop at the base of Da Lat jam.
Delegation dinner at the restaurant. Back to the hotel room.
Evening : Free walking by Ho Xuan Huong double bike "Valentine", revealed to enjoy special tea, coffee run, ... (own expense)
DAY 2: A Glimpse DA LAT (breakfast lunch dinner)
Morning : Have breakfast.
Continue to:
Palace III - Built between 1933 and 1938 where Bao Dai family living and working in Dalat City.
Bus transfer to Railway Station - with the oldest locomotives Indochina, on the train journey to Trai Mat, on the way, enjoy the flower plantations, planting vegetables ... to Trai Mat, continue to visit related: Linh Phuoc Pagoda (Temple Chai Ve) where each can transmit aura radiating area in Da Lat; Phuoc Duyen Tower and Dai Hong Chung - weighing more than 8 tons are considered Vietnam's largest.
Visiting Architecture Domain de Marie Church - learn about the miracle of the saint, for peace for themselves and their families.Union can buy sweaters knit by orphans cheaply.
Noon : Group lunch at the restaurant, the hotel and rest.
Afternoon : Car Group continues to Langbiang on the mountain, conquered Mount Lang Bian zeep special ride (own expense) - admire romantic beauty of the Highland mountains and hear the story of the romance K'Ho nation.
Visiting a golden valley attractions are attractive. You can take pictures with ethnic attire at this place.
Union dinner. Back to the hotel to rest.
Evening 18h00 : Visiting program of cultural exchange cultural understanding with the peoples of the salad. (Own expense)
20h00 : Back to the hotel to rest
DAY 3: DA LAT - ATTRACTION (breakfast, lunch, dinner)
Morning : Visit breakfast.
08h00 : Depart for sightseeing.
Union City Botanical Gardens - where research and planted all kinds of flowers.
Visit the Highlands Biological Institute: is a scientific research agency in Da Lat, Vietnam with functional basic research on biological materials vungTay.
Bus tour to visit Spider Web Castle (also known as the Power Rangers Chang'e) - with bizarre architecture.
Afternoon : Visit to the hotel for dinner and rest.
Afternoon : you are free to Da Lat Market. Buy farm commodity items with cheap wool.
Union dinner parties with wild meat dishes use wine.
Evening : free to explore Da Lat
DAY 4: DA LAT - Vinh Long (breakfast lunch dinner)
Morning : Visit lam hotel room procedures. Union farewell breakfast Da Lat city.
Group stop tour KDL Dambri: is a beautiful waterfall, the highest in Lam Dong. Sources of water from the higher cascade down 90 meters, creating a majestic backdrop. Thrilling delegation tried to go trough-game skid Dambri tour operators (own expense).
11:30 Noon : Group lunch at the restaurant. Proceed on to Vinh Long.
18h00 : Visit with snacks.
20h00 : Visit the Vinh Long to drive you to the original point .. farewell tour guide you. End of tour. Hope to see you for !!!
Note: The time and place are only expected, on the tour route may change to suit the actual situation, while ensuring adequate sights!