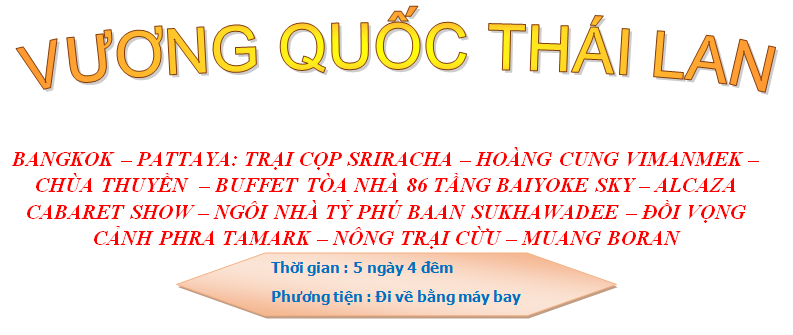 DAY 1: TP. HO CHI MINH BANGKOK (snack on the plane)
Morning : HDV and Tourism Western pickup at 13h45 at the corporate office and transfer to Tan Son Nhat airport or on columns of 12, port D2 (2nd floor) international terminal at Tan Son Nhat airport , flight procedures welcomes TK 69 20H25-21H40 go Thailand .
To Suvarnabhumi Airport - Bangkok , Customers are greeted by garlands of beautiful girl customary Thai, local car and HDV welcomed the delegation of the hotel.
In the evening, teams are free to explore and overnight in Bangkok.
DAY 2: BANGKOK PATTAYA (Breakfast, lunch, dinner)
Morning: breakfast at the team hotel. Making room procedures. Departure to Pattaya. On the way you stop to visit '' Four face Buddha - Four Faces Buddha ' is the famous sacred statues are revered Thai place in the heart of Bangkok. Guest blessing, pray for peace, ... for the family fortune.
Noon: Union Lunch Buffet at Baiyoke Sky building 86 floors with over 100 dishes from many different countries such as Thailand, South Korea, Japan, ... Guest photography, panoramic view of Bangkok .
Departure to Pattaya , a tourist city famous Orient Beach.
On the way stop to visit Camp Tiger - Sriracha Tiger Zoo , the group can explore many interesting things such as pigs - dogs living with tigers, pigs do the math, watch the show attractive, with a little fun and adventure as racing pigs, circus crocodile.
Continue union stopped visiting Butterfly Garden - Butterfly Garden, union mining processes to learn Thai Yen, Yen enjoy tea, honey tea Golden Triangle. Union could buy products here such as: Honey Golden Triangle, Yen Chao, Cao Ho ...
Pattaya hotel union check.
Visiting the House of Happiness - Baan Sukhawadee , castle building magnificent palatial beachfront palace modeled on Versailles, new sights and attractions in Pattaya. Here, you visit a harmonious architectural complex, unique, and can also experience the personal philosophy and spiritual depth.
PM: Dinner. In the evening, the group freely explore Pattaya - sleepless city.
Overnight in Pattaya.
DAY 3: PATTAYA (Breakfast, lunch, dinner)
Morning: Delegation breakfast, you are free swimming at a private beach, pool bath, ... at the hotel.
Noon: Lunch. Take your car to the scene Phra TAMAK Hill prospect , where a panoramic view of the city Hotel Pattaya. Also tourists can be ignited blessing, the blessing for the family.
Visit and learn the process of mining and processing of precious stones at Gems World Company.
Visit Elephant Camp where you witness firsthand the daily life of the elephant and the mahout can hand for eating elephant (own expense), customers can participate in 'Riding Elephant ', it will take about three to five minutes early to get acquainted with new feelings tilting seat, lurched on the backs of elephants so big but gentle interesting and attractive ..
Visiting Farm Sheep (Sheep Farm) new attractions opened in June 2013 from the play area is very loved by children. Here you can let the sheep eat, take photos with the adorable animals while you enjoy free buffet of seasonal Bonds.
Evening: Dinner and teams enjoy excellent programs Alcaza cabaret show - by the beautiful transsexual performers.
Overnight in Pattaya.
DAY 4: PATTAYA v BANGKOK (Breakfast, Lunch)
Morning: Delegation breakfast, check-out procedures.
Depart for Bangkok, stopping en route to visit 'Muang Boran - Ancient Siam Park' or also called 'Thailand miniature' where copies build structures unique famous through the ages such as: Prehistoric, Statue Dvaravati, Khmer ancient temple sixteenth century, Lanna Temple Sukhothai, ancient city of Ayutthaya, Imperial Palace Grand Place, restaurants, cafes ancient history of ancient Thailand, ....
Back to Bangkok, visit tanning facilities for various types of souvenirs crafted exquisitely made ​​from crocodile leather, stingray ...
Noon: After taking the afternoon, the delegation to visit Camp Snake , snake watching attractive circus performances, and in the process learn snake venom processed into therapeutics.
Then the delegation Pagoda Boat , a special architecture and brings a deep spiritual meaning for the Thai people, was built over 200 years ago in the shape of a boat symbolizing the trade with foreign countries. Union's river landing can take pictures line the Chao Phraya temple and watch the fish live naturally abound.
PM: You visit the shop at Seacon spuare . (Guest dinner in the shopping mall excluded).
Delegation to the hotel to rest, Overnight in Bangkok.
DAY 5: BANGKOK Q HO CHI MINH CITY (Breakfast)
Delegation breakfast at the hotel, check-out procedures.
Afternoon visit Vimanmek Palace, also known as the Imperial Palace, Wood , this is made ​​of teak wood palace yellow world's largest, was built in the reign of King Rama V in 1901 to this offer you not only admire the harmony and uniqueness of this palace can watch the throne and many antiques and decorations used in the royal palace during periods Or visit '' Supply e Electricity Ananta Samakhom 'security Royal Museum architecture e AM European style.
Depart from central Bangkok Suvarnabhumi airport, had lunch at the airport.
Procedures for flight TK 68 15H35-17H05 the city. Ho Chi Minh City.
Arriving at Tan Son Nhat Airport in HCMC. Farewell, end tour.